Chiropractic and Wellness
Care for theWhole Family
About Our Practice
Brown Chiropractic and Wellness Center (formerly Hart Chiropractic) has served patients in Hart, Michigan, and the surrounding communities in Oceana County since 1989. We moved to our current location on Main Street in Hart in January of 2010.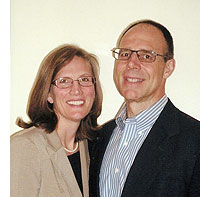 We are a holistic health facility that provides chiropractic care and massage therapy, nutrition counseling and wellness classes, and health products that support natural whole-body health. All of our staff members are dedicated to helping you change your life through better health.
Dr. Brown completed his undergraduate work at Brigham Young University, and is a graduate of the Palmer College of Chriopractic. In additon to being a licensed Doctor of Chiropratic, he is certified in extremity work, bio-cranial work, and ProAdjuster technology.
Dr. Brown has lived in Oceana County for over 20 years with his wife and family, who are also patients and a great source of joy in his life.