Chiropractic and Wellness
Care for theWhole Family
Massage Therapy
Massage & Chiropractic - A Synergistic Approach
We believe that massage therapy is an essential partner to chiropractic treatment. While chiropractic care reduces or eliminates pressure on spinal nerves and restores proper alignment of the vertebrae, massage therapy helps to alleviate stress and muscle tightness so that your body can maintain the benefits of your chiropractic adjustment for a longer period of time.
Massage therapy, especially deep tissue massage, can provide many other benefits, including relaxation, increased blood circulation, and relief from pain associated with fibromyalgia, arthritis, and other conditions.
When combined, chiropractic care and massage therapy can prove to be very helpful in maintaining overall health, allowing the nervous, muscular and skeletal systems to function in harmony as they were designed to do.
At Brown Chiropractic & Wellness Center, we use this synergistic approach, combining massage therapy and chiropractic treatment, with a focus on removing interferences to muscle and nerve function so that muscles can relax and heal.
Katie Rice is our certified massage therapist. Contact Brown Chiropractic & Wellness Center today to schedule your massage therapy session with Katie.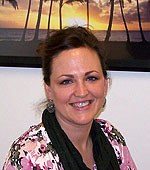 Katie Rice joined the Brown Chiropractic and Wellness family in January of 2010.  She has been a Certified Medical Massage Therapist through Blue Heron Academy since 2007.  She looks forward to utilizing her skills in both relaxation and medical massage to help you reach your goals on the road to wellness.